This post and site may contain Affiliate links.
I just added all of the links to my detail pages to the corresponding http://www.minifigs.nl page.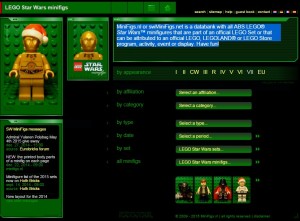 Minifigs.nl is the ultimate resource for all Star Wars figures.  No one keeps track of all of the star wars figures as accurately or completely as he does.  here is the description from his page.
"MiniFigs.nl or swMiniFigs.net is a databank with all ABS LEGO® Star Wars™ minifigures that are part of an official LEGO Set or that can be attributed to an official LEGO, LEGOLAND® or LEGO Store program, activity, event or display. Have fun!"
My favorite part are his quest book and the Bricklink to his database so you can see the variations that he has found that Bricklink does not have listed yet!
See here for the guestbook 
and
here for the Bricklink 
I have added a link to my details page for each variation that he has listed in his database.  I will keep this updated on a regular basis,
I suggest that you head over to his site and check it out if you have not already and if you are a collector of Lego Star Wars figures!  He has about 20+ figures that are not listed on Bricklink.
He also has an active discussion going on variations and prints of the different figures as well as some of the fakes that have been found out in the wild.
He allows you to actively search the figures by set, type, affiliation, date and many other ways.
You can see a picture of his full collection here.
http://www.minifigs.nl/swminifigs/mfnl-wall.html
He also has a few ways to view all of the figures at once.  I really like how he has kept all of his images the same size and in doing so, divided the Jabba's into two images that he combines back together in the full collection!