This post and site may contain Affiliate links.
I always think that these certified professional sets are really nice ideas and sets.  And they are always limited to less than 500 copies each, so that is fun also.
It looks like we have 6 different ones.  I found these for sale over on eBay in the UK based on a post of the sets that I found on Facebook. by user Matther L. here.   However, I cannot find any other pictures of the boxes for these sets.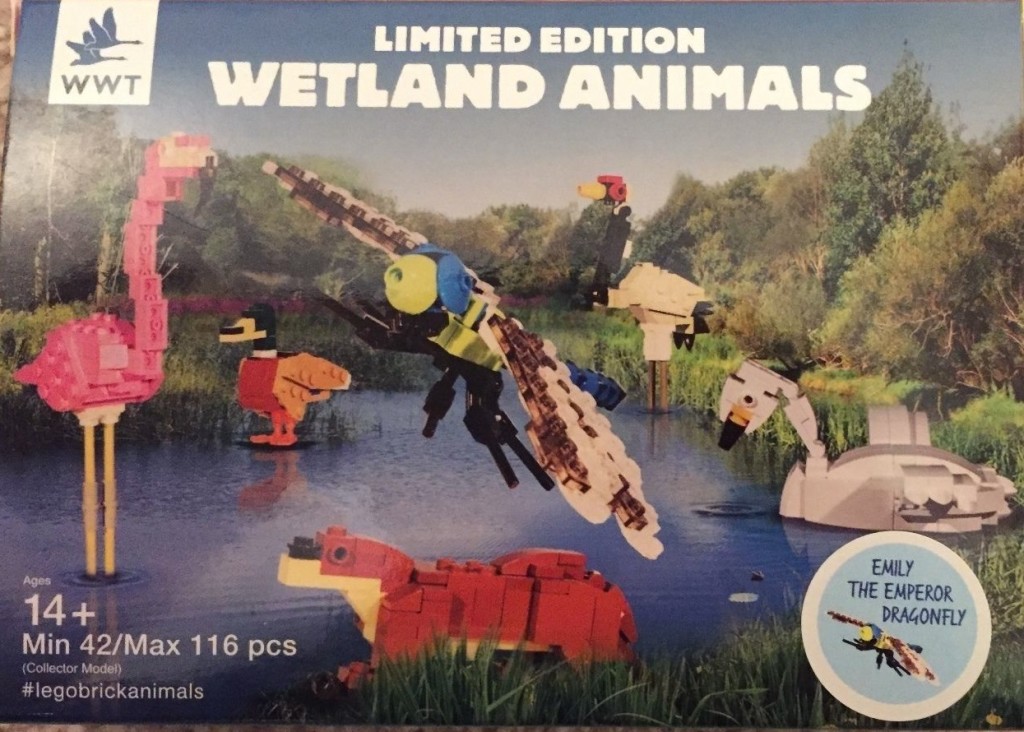 Here is the back of the set.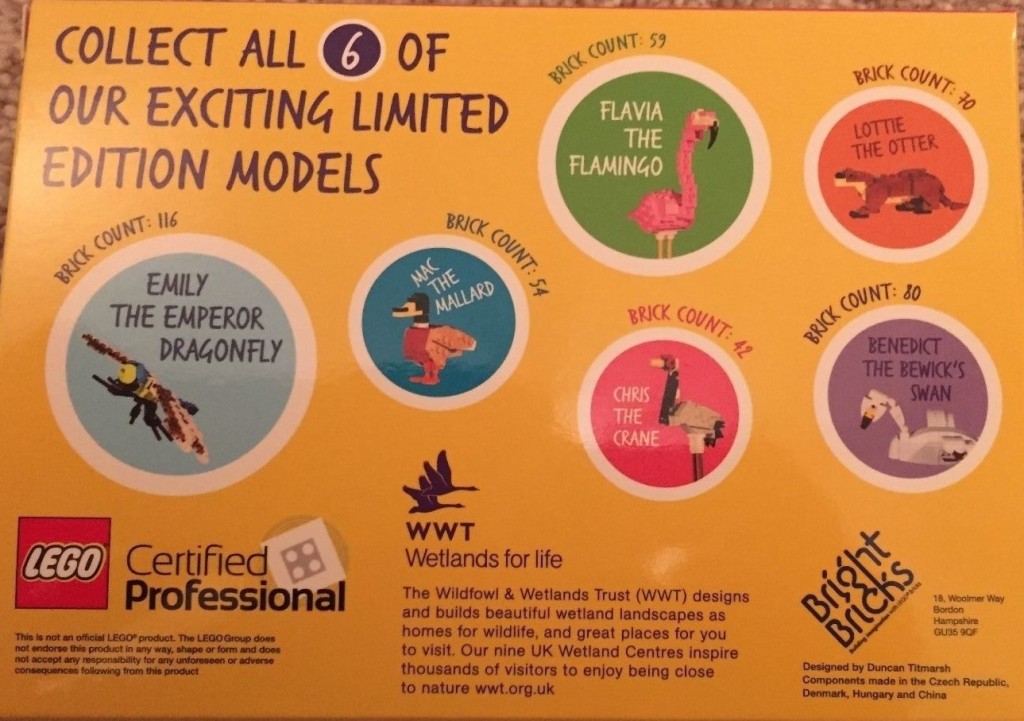 it looks like each box clearly identifies what is inside as well.  If you go to the park, it looks like you can pick each of the sets up for about 10-15 pounds each.  I saw this image on Facebook that lists out the prices.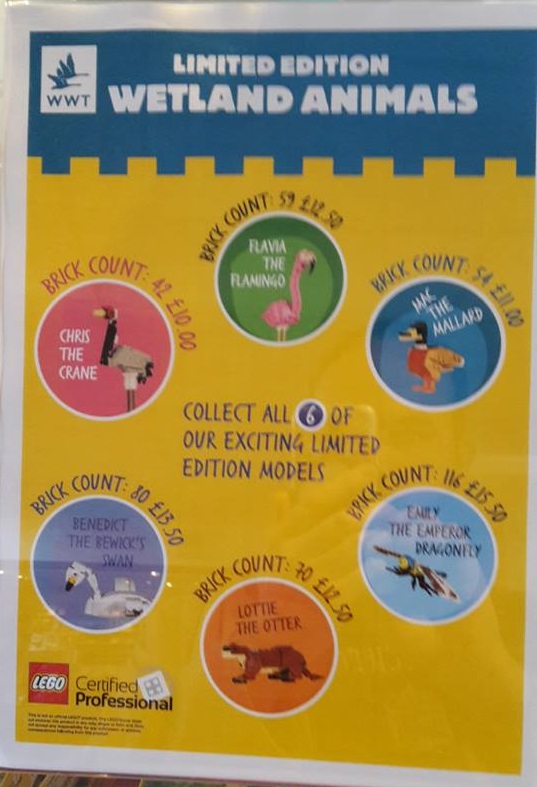 A little pricey, but they are unique and they are limited to 500 each.  Also, do not forget that they the proceeds go to a good cause.  The WWT.  You can see pictures of each of the different boxes on the ebay auction.
Here is a better picture of the built models.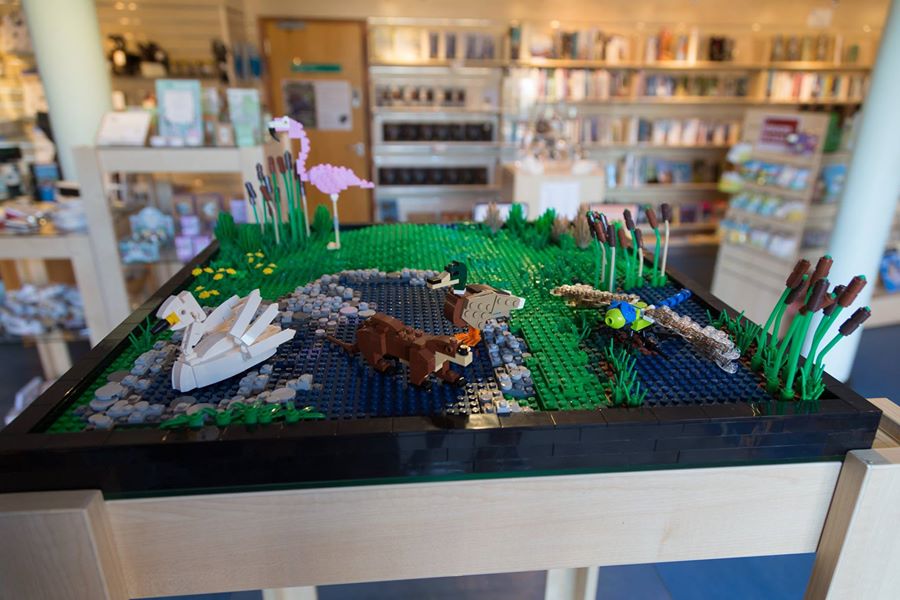 It looks like they are not selling them online, but at the WWT sites in the UK.  they go with a Lego bird display that is touring all of the sites.  You can see more about the show here.  And more about the sets here.
It looks like this was made by Bright Bricks.  See here, but I cannot find anything about this on their website.
Per this article on the WWT site.
"Limited edition LEGO® brick wetland animal sets now on sale at WWT London Wetland Centre
Limited edition LEGO® brick wetland animal sets now on sale at WWT London Wetland Centre
To celebrate the LEGO® brick animal trail, the Wildfowl & Wetlands Trust (WWT) has launched an exclusive series of mini wetland LEGO brick animal models.
These limited edition models have arrived at London Wetland Centre a few weeks after their GIANT LEGO brick friends, which can be found around the grounds on the LEGO brick animal trail every day until Sunday
8 November.
There are six iconic wetland animals to buy in the London Wetland Centre shop. These fun mini models, only available through the WWT, are of Mac the Mallard, Flavia the Flamingo, Lottie the Otter, Chris the Crane, Emily the Emperor Dragonfly and Benedict the Bewick's Swan.
Like the GIANT brick animals, these models have been designed and produced exclusively for WWT by south-east based Bright Bricks, the UK's only certified LEGO professionals and there are only 500 sets of each animal available.
In total, 421 LEGO bricks make up these six mini models – a fraction of the 45,400 bricks needed to build their six GIANT LEGO brick animal counterparts seen on the trail.  …
The limited edition models are available to purchase individually from the London Wetland Centre shop at prices ranging from £10 to £15.50, subject to availability. All sales goes to support WWT's vital conservation work in the UK and around the world.
To find out more about the LEGO brick animal trail visit www.wwt.org.uk/legobrickanimals or follow #LEGOBrickAnimals."
Thanks for looking.