This post and site may contain Affiliate links.
EDIT:  Here is an email that I received from the Hilton in Paris about purchasing this set.  I am not sure if they are all out or not.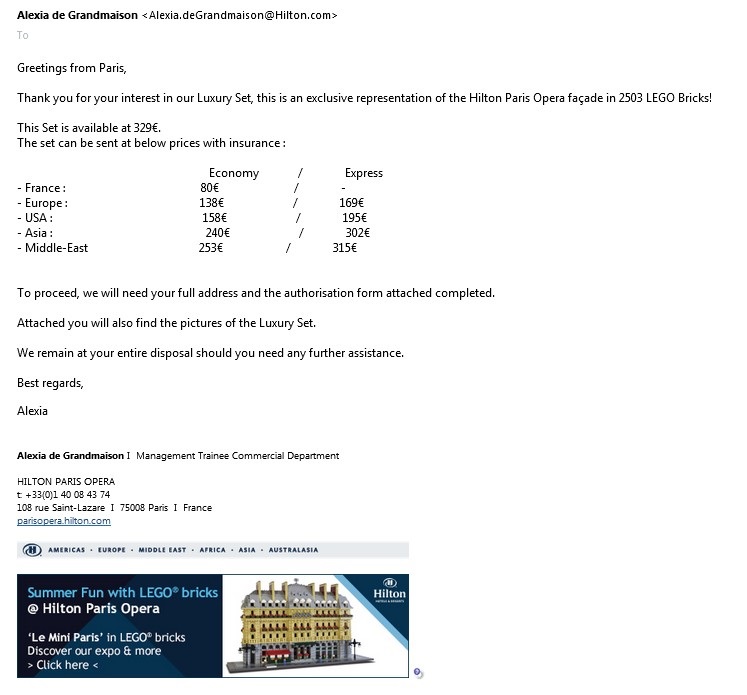 Here is the credit card form that they sent me as well.  Good Luck.  The shipping was terrible.  🙂
Hilton Family 3rd party payment form
Please forgive me.  I know that this is not a minifigure, but I have a soft spot for the Modular Buildings as well.  🙂
EDIT:  Kevin W on Facebook just mentioned that this looks a little small to be a normal sized modular.  I think he is correct.  So it may not connect to the others and may be a little smaller.
Just saw this on eBay here.  How am I ever going to get two of these.  This is crazy that I never heard about this.  The force is going to be all messed up for weeks while I try to decide if I can afford this.  So many questions?
Is it official Lego sanctioned?
How much is it?
How many did they make?  Is it really limited to only 500 sets?
Are we going to be getting more of these?
Can I get one?
Where am I going to get the money?
Will it fit with the other Modulars?
It appears that Hilton has partnered with Lego to release a limited number of these sets for the renovation this summer of the Hotel.  They have also kicked off a special Lego Vacation package to attract kids and families.
I was looking for more minifigures on eBay when this Lego Paris Hilton Opera popped up in my search.  You can see it here.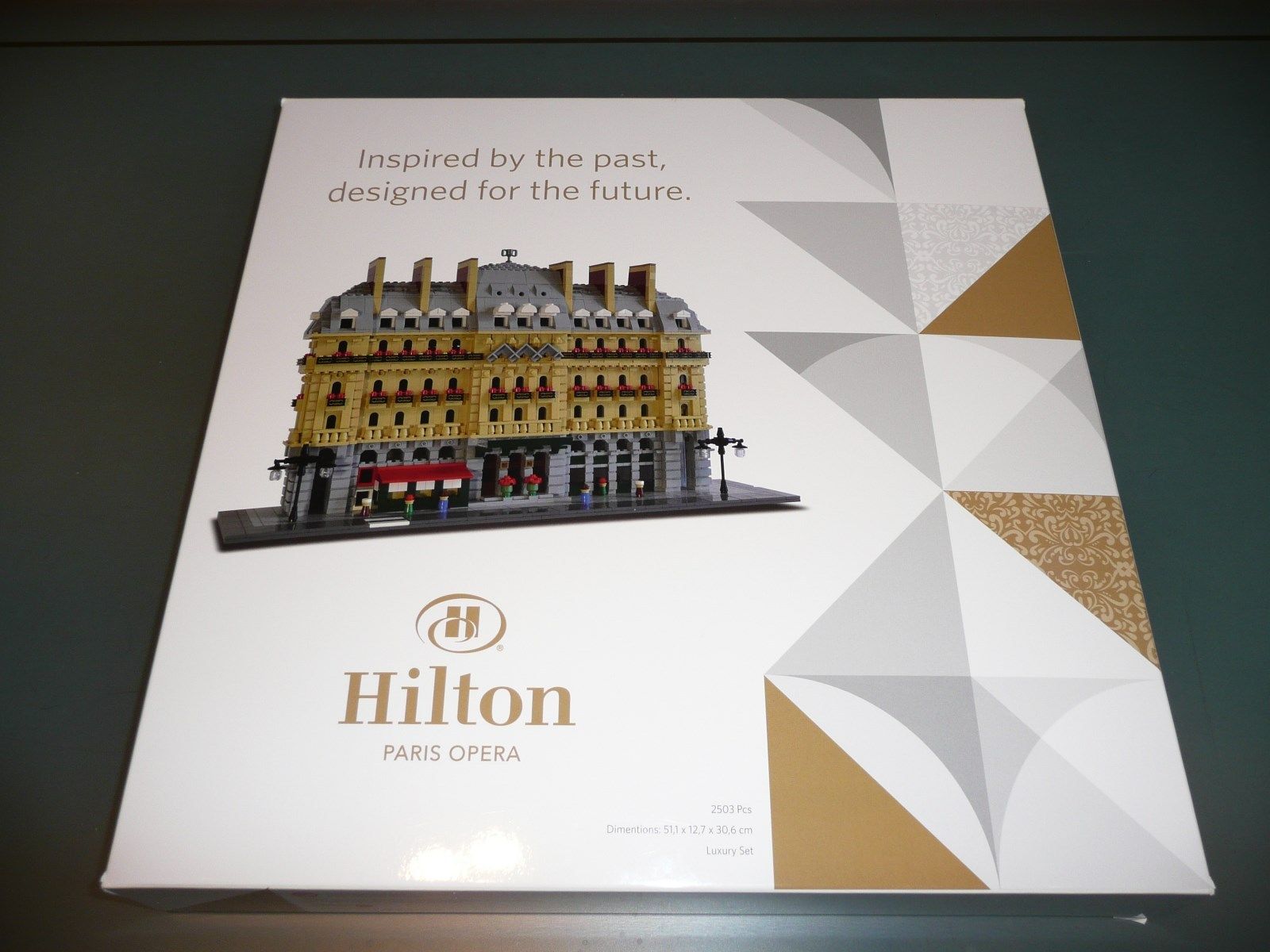 Here is a video of the building action.
Paris Hilton Lego Building Instructions
Here are some additional box pictures that you can see below.  On the one side, you can see the Lego Logo which I have to believe makes this somewhat official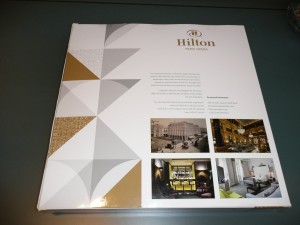 Here are some additional details.  You can read the full article here on the Hilton News site.
Here is a picture of the final product.  Wow, just Wow!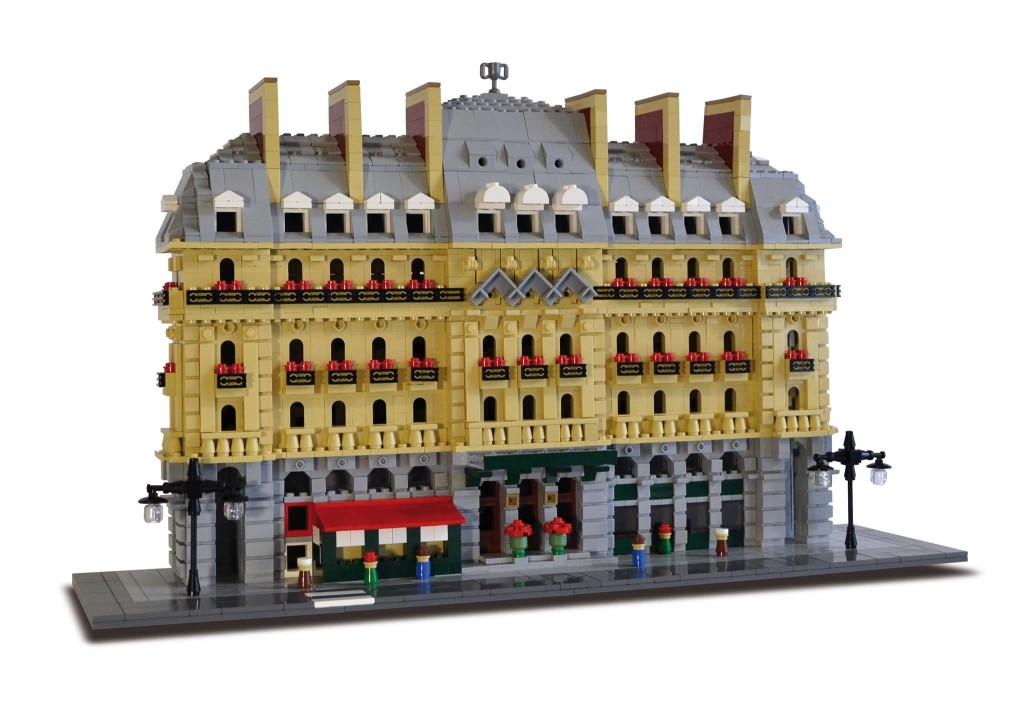 You can also find some more details by picking through the hilton facebook page here.
https://www.facebook.com/hiltonparisopera
A reader (Barry D) commented on Facebook the following.
"Lego Certified Professionals (or companies they own, such as Bright Bricks) are permitted to sell up to 500 copies of sets they produce themselves. They have to supply their own instructions and parts. So not an official Lego product as such, just 'under license from Lego' really. "  So this makes a little more sense.
I looked up the Lego Certified Professional Page here.
http://www.lego.com/en-us/aboutus/lego-group/programs-and-visits/lego-certified-professionals
I cannot find anything about the 500 copies comment, but I think I have seen a few other sets like this in the recent past.
Here is a copy of the original that is on display at the hotel.  THe guy in the picture is the designer.  This picture is from here and found on this page.  I am not sure what this email archive is?
http://us3.campaign-archive2.com/?u=92bab29955a6f47156e3896e3&id=d1bac72d04
Here is another photo of this creation posted here
"PARIS – Hilton Paris Opera, the classic Paris hotel that debuted a chic new look earlier this year following a $50 million refurbishment, announced today a partnership with LEGO® on an exclusive summer promotion to kick off on July 3, 2015. Ideal for families traveling in Paris through early September, 'SUMMER FUN with LEGO Bricks' at Hilton Paris Opera marks LEGO's first collaboration with Hilton Hotels & Resorts in France.
"We are excited to offer families a fun and different travel experience this summer," said Sofia Vandaele, general manager, Hilton Paris Opera. "In the city synonymous with exploration and discovery, what better way to engage our younger travelers!"
Included in the 'SUMMER FUN with LEGO Bricks' package is a great overnight experience, buffet breakfast, a choice of one of three LEGO boxes as a gift, a My Little Hilton back-pack and 20 percent discount voucher at BHV MARAIS, Parisians' favorite department store. For Families, a 50 percent discount is offered for a second connecting room to accommodate parents and kids comfortably. Additionally, during July and August, children staying at the hotel can build their own LEGO projects at one of two fully stocked play tables located in Le Grand Salon. Kids workshops will be animated on Wednesday and Saturday afternoon in July.
For die-hard LEGO fans, an exclusive Luxury set of 2,500 bricks to explore the creation of their very own Hilton Paris Opera building at home will be available for sale.
Hilton Paris Opera will also host an exhibition made with LEGO bricks featuring Paris' most famous landmark buildings and international personalities, which will be unveiled on July 3 and remains open until September 6. The exhibit will take place in Le Petit Bar & Le Grand Salon as well as Salon Baccarat, with a large scale model of Hilton Paris Opera exclusively built for the hotel by Dirk Denoyelle, LEGO Certified Professional. Guests can marvel at models of Sacré-Coeur and the Eiffel Tower, all made of LEGO bricks, as well as impressions of several international personalities, including Laurel & Hardy, Charlie Chaplin, and other work from the private collection of Dirk Denoyelle.
Visitors can mark their visit by signing one of the bricks and contribute to the exhibition's very own LEGO® DUPLO® wall"
Here is another set similar to this one that was released this summer as well.  I think this one was priced at $325, but I have not seen any for sale.  Here are some details regarding this set.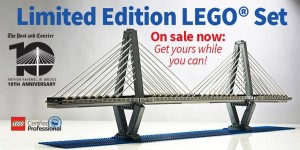 I also found this image on this twitter page.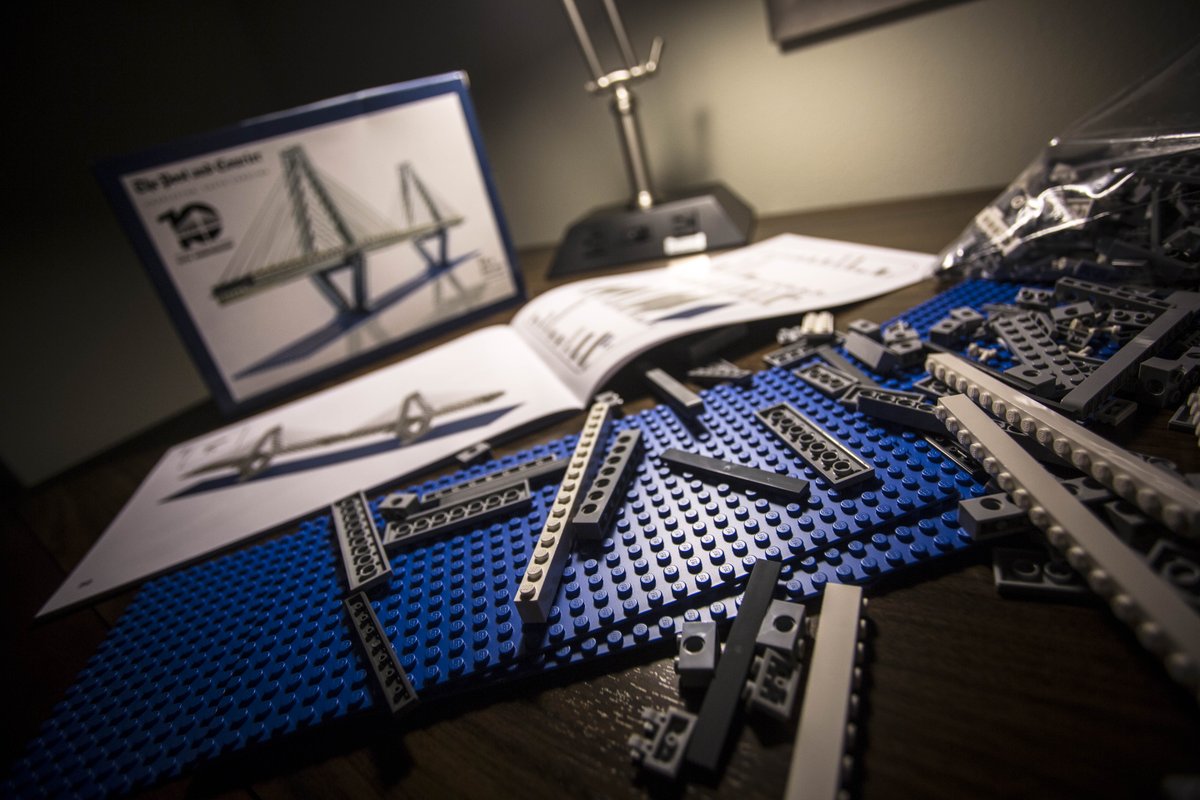 How cool is this? A LEGO replica of the Arthur Ravenel Jr.Bridge to celebrate its 10th anniversary this weekend! pic.twitter.com/5nhfEQLIGO

— HDR, Inc. (@HDR_Inc) July 17, 2015
No, I know this is not a post about minifigures, but I have a soft spot for the Modulars.  They are my second most favorite Lego item.
Please like my facebook page if you get a chance.