This post and site may contain Affiliate links.
I have been meaning to write about these two figures for a while, but I was having a problem finding complete information about these figures.  This collection of figures was given away at SDCC 2010 and Celebration V in 2010.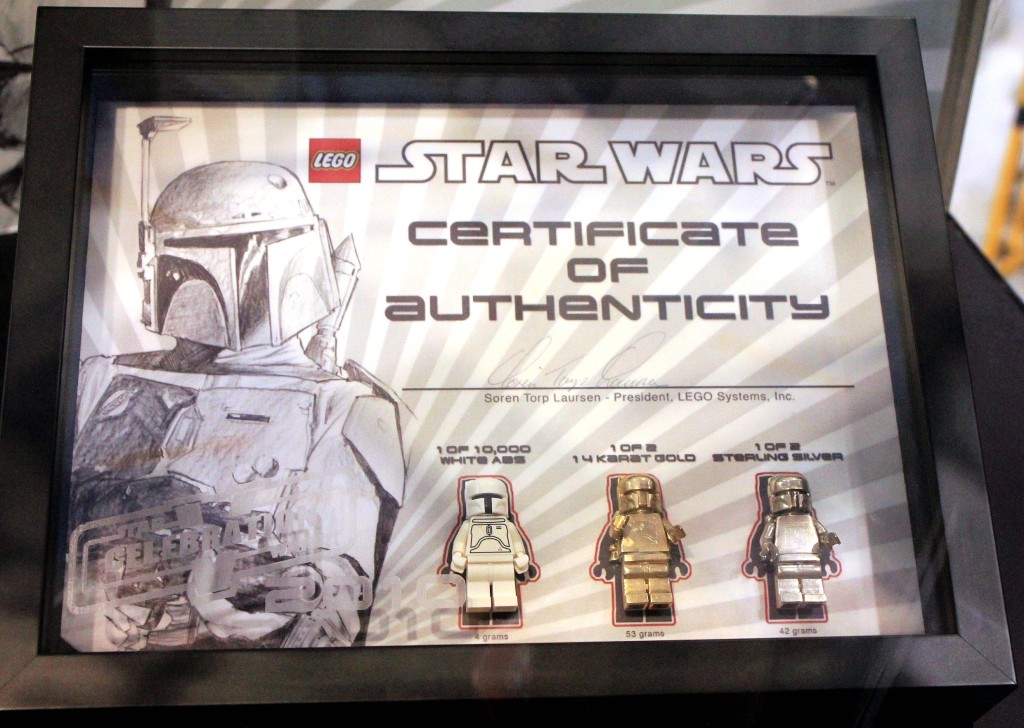 The above picture was taken by Flickr User JennFL2 and is one of the 9500+ images in her collection.
The three figures included in this collection are all in the top 100 most expensive and rare minifigures of all time and will probably never be in my collection.  🙂
If you look at this VIdeo from Fernando Cantu from Star Wars Celebration V, you can see the display that was used to give this away and a few other details.  They had this locked up pretty nicely and in a very nice display case.
I suggest watching the video to see better pictures, but here is a screen capture of the case and the sign that they had for the give-away.  If anyone has any pics of this case from the 2010 SDCC, I would be interested in hearing from you.
The Gold and Silver Boba Fett Figures are each limited to two copies and they only exist in these cases.  I really would be interested in knowing who has these now, but it probably does not matter as I cannot afford them any ways.  The white figure was also given away as part of the 2010 toy fair and as a poly-bag from Toys R Us.  So this one a little more affordable and can be purchased for about $65-$80 depending on when are where you find it.
I am assuming that these figures are three pieces in the same fashion as the Gold and Silver c-3po and the Bronze Bobba Fett.  I am not positive, but Lego stated that the Gold c-3po was made of three different pieces with the torso having additional engraving.  Even as I say this, I am questioning myself as it really looks like the arms and the helmet are movable.
I am pretty certain that we will never know as they will probably never be removed from the display.
On a lighter note, back in 2010, FBTB reported that one of these was listed on Craigslist.
See here.
"One of the two exclusive Comic-con sets of 1 White, 1 Gold plated, and 1 Silver plated boba fett showed up on craigslist about an hour ago. He wanted best offers or trades. I offered him everything in my house and lots of cash, but he said he was overwelmed with emails and taking the ad down. I was so close!! I feel like breaking something or getting trashed now. Just felt I needed to tell you guys."
It sounds like it never sold, but if you are really looking for one of these, here is the place to start.  I am sure he received some crazy offers.
I have some prices on these figures based on reasonable estimates and what I would be willing to pay.  I have also spoken to a few other collectors and I am pretty sure that these values are under what they are really worth.  Especially in the case and with all three as the world is full of some really dedicated Star Wars fans.
I would not be surprised if this collection went north of $20,000 in an auction setting.    Especially if it could be authenticated.
It goes without saying, that if you know where any of these are located, I would be interested in hearing from you.  Please feel free to contact me if you know anything, or if you know of additional images of these.